Healthy teeth and gums are important for the lifelong health of your mouth.
Inadequate cleaning can cause bacteria to accumulate on your teeth making your gums bleed and become inflamed. This condition can be painful and can also lead to more serious problems if not treated quickly. However, with regular dental care, Mitcham Dental Clinic can help you prevent the onset of gum disease.
We recommend regular visits to our dedicated Hygienists and Dental Therapists for cleaning, polishing and preventative fluoride treatments. Our hygienists specialise in discussing your oral hygiene needs, recommending products and developing a personal program to keep your teeth and gums healthy for life.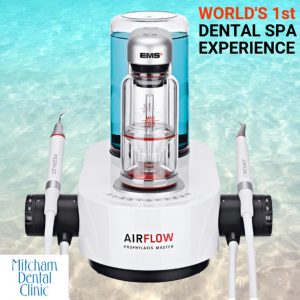 EMS Airflow Polish (ProphyJet)
The EMS Airflow Polish, or Prophy Jet helps us give you the best dental clean possible.
The Prophy Jet uses air, a fine bi-carb powder and water set at your temperature preference, to remove plaque and stains from your teeth. It is especially good at cleaning those hard to reach stains between teeth and around orthodontic braces. If you experience teeth stains from tea, coffee or smoking, then a clean with our Dental Hygienist, using the EMS Airflow Polish is a must.
Dental Hygiene FAQs
Having regular cleans and check ups try and prevent dental caries (holes in teeth) and prevent gum disease (gingivitis and  periodontitis). The aim of oral hygiene is to try and keep your teeth and gums healthy so we can try and keep them for life.
We recommend to wet your toothbrush and toothpaste prior to brushing, however, remember to spit and not rinse, so you can  keep all that good toothpaste on your teeth.
We recommend to brush for 2 minutes in the morning and at night time, use a fluoride toothpaste, spit and don't rinse the toothpaste out. Don't forget to floss or use interdental cleaners (pixters) before you brush at night.