Cosmetic Dentistry Melbourne
Improve Your Smile Through Cosmetic Dentistry Melbourne & Eastern Suburbs
Have you ever thought that your smile could be improved through cosmetic dentistry but believed that these procedures are too expensive or are only used by famous personalities?
At Mitcham Dental Clinic, we provide cosmetic enhancement to people from all walks of life. You may have chipped your tooth playing sport or you may have noticed that your teeth are becoming discoloured. Whatever the problem, come and talk to us today.
We can tailor our skills and services to your needs, so that you can show off your beautiful smile every day.
Do you want to transform your smile?
Please do not hesitate to contact our best cosmetic dentist now to ask questions or book an appointment.
Crowns and bridges can also help restore your beautiful smile. If your tooth is badly broken or very worn down, a crown may be just what you need. It works by completely covering your affected tooth and therefore protects the deep layers of your tooth structure. Crowns are constructed from porcelain and/or gold.
Mitcham Dental Clinic use cutting edge technology that can help make your crown appear to be part of your own tooth structure. Alternatively, you may need a bridge to replace a tooth or number of teeth.
Whether you need just one tooth replaced or every tooth in the upper and lower jaws to be restored, dental implants may be the best option for you. Dental implants are a long term tooth replacement solution, individually customised to seamlessly fit the gaps in your smile. They replicate the normal function of real teeth so you can eat all your favourite foods, speak normally and smile with confidence!
We offer you both in-chair and take-home tooth whitening options. You decide on the whitening method that best suits you, the results are the same!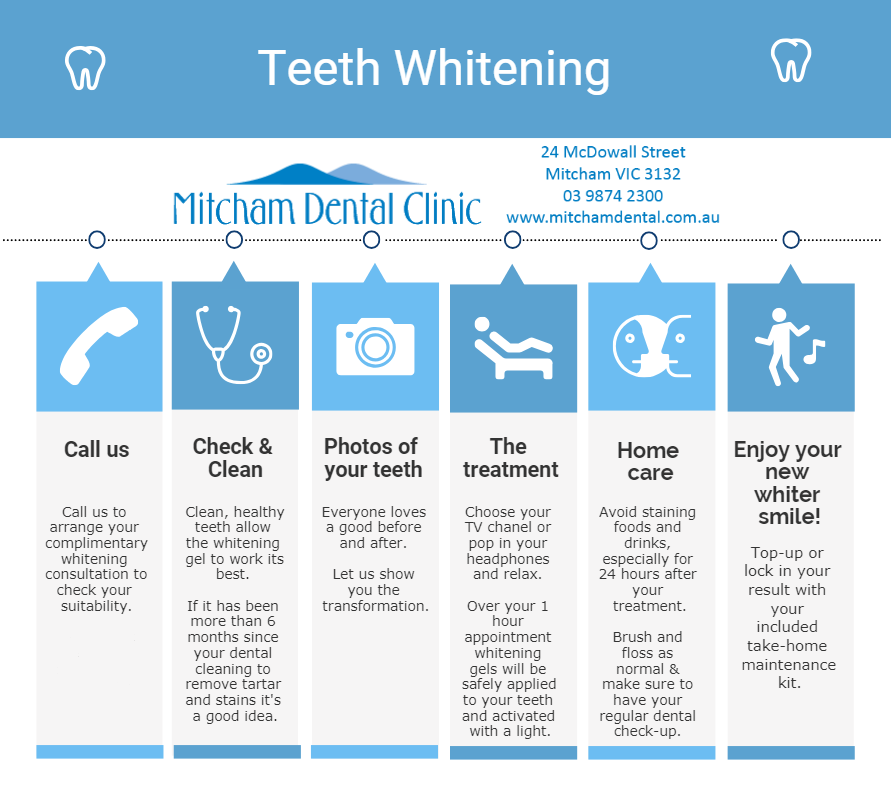 A veneer is the ideal solution to cosmetically enhance a smile while still maintaining healthy tooth structure. Veneers are wafer thin, tooth coloured composite or porcelain shells that are made to perfectly bond to the front surface of your teeth. Veneers can best be described as being like false fingernails for your smile.
They are a fantastic option for amending the length, size, shape or colour of your teeth. We use veneers which are high quality, light-weight and durable, along with the latest smile design techniques to give you a beautiful smile.
Some of the benefits of Veneers:
Close gaps between teeth
Enhance tooth shape
Improve tooth colour
Amend the length or size of teeth
Realign crooked teeth
Cosmetic Dentistry FAQs
Cosmetic dentistry can change the profile of your face through your smile. We can change the size, shape, colour, alignment of your teeth giving you a beautiful straight smile.